Intensive Nahuatl Language Study at Yale University - Summer 2017
The Council on Latin American and Iberian Studies (CLAIS) at Yale University, in partnership with IDIEZ (the Instituto de Docencia e Investigación Etnológica de Zacatecas, Mexico) offer the opportunity to study Classical and Modern Nahuatl at the beginning, intermediate and advanced levels in an intensive course that will be held at Yale in Summer 2017.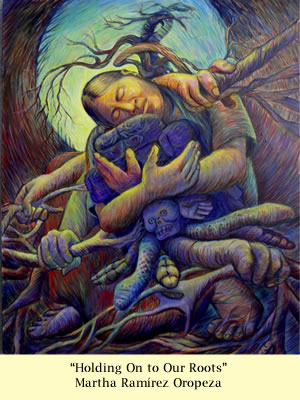 Dates of Course:  June 26 to August 4, 2017.
Instructors: John Sullivan, Eduardo de la Cruz Cruz, Abelardo de la Cruz de la Cruz, Alberta Martínez Cruz.
Classrooms: Luce Hall 102, 103 and 203, Yale University.
Tuition is $5,000. Room and board are not included. Some partial tuition scholarships are available (see below).
Credit: Students who complete this intensive language course are awarded three Yale course credits, equivalent to two semesters of intensive coursework, or equivalent to twelve credits at most other universities.
Financial Assistance: We make every effort to ensure that financial constraints are not an obstacle for participating in the Summer Nahuatl Language program by providing some partial tuition scholarships. Financial aid may also be available in the form of FLAS fellowships through your own institution or another Title VI funded National Resource Center for Latin American Studies.
Housing:  Housing with meals is available on campus in Yale's residential colleges. However, most summer Nahuatl students prefer to live off-campus.  Students can find information about apartments off campus to sublet through University Housing www.yale.edu/livingnh/community/rental.html and through various websites, including apartmentslist@panlists.yale.edu and YaleInternational@yahoogroups.com.
Course Description: The course seeks to: 1) develop students' oral comprehension, speaking, reading, writing and knowledge of language structure, as well as their cultural wisdom and sensibility, in order to facilitate their ability to communicate effectively, correctly and creatively in everyday situations; 2) provide students with instruments and experiences that demonstrate the continuity between past and present Nahua culture, through the study of colonial and modern texts and conversation with native speakers 3) penetrate into the historical, economic, political, social and cultural aspects of Nahua civilization; and 4) prepare students to take university level humanities courses taught in Nahuatl alongside native speakers
Students will have class for at least five hours per day, Monday through Friday: two hours of Modern Nahuatl immersion with native speaking instructors, two hours of Classical Nahuatl taught by John Sullivan, three hours per week of individual tutoring with a native speaker in order to work on a research project of the student's choice, and three hours of cultural activities per week. Students who wish to enroll at the intermediate or advanced level must demonstrate that they have worked on Modern Nahuatl conversation with a native speaker during the previous academic year. Contact John Sullivan at idiez@me.com for options concerning the completion of this requirement.
Applications were due by April 7, 2017. We will notify applicants of their acceptance to the program shortly. Once accepted, applicants must register before the deadlines described below:
April 21: International students who need a visa to attend the course (Students should register as early as possible. Registering by April 21 will not guarantee that students will receive a visa in time to attend the course).
April 21: Students who will need on-campus housing (Students should register as early as possible. Registering by April 21 will not guarantee the availability of on-campus housing).
May 22: Standard deadline
June 5: Extended deadline for FLAS recipients only. No registrations will be accepted after 8pm Eastern Time on June 5th.
For more information: If you have questions about applications, academics, financial aid or on-campus housing and meals, please contact Daniel Juarez at daniel.juarez@yale.edu or by phone at +1 (203) 432-3420 or John Sullivan at idiez@me.com.