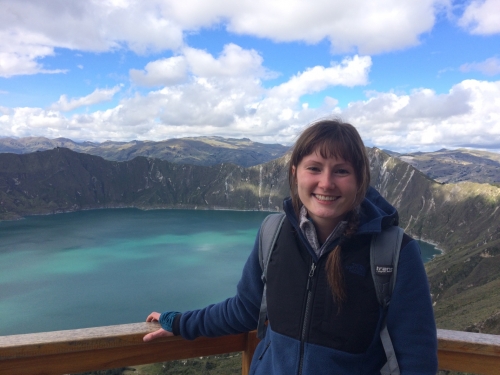 I had dreamed of traveling to South America since I had first started learning Spanish in high school, and getting to spend the summer months in Ecuador and Argentina went beyond my expectations in every way. Thanks to the Tristan Perlroth Prize I received from the MacMillan Center, I was able to participate in two different programs through the Child Family Health International organization (CFHI): Andean Health - Patient Care from Hospitals to Community Clinics and Hospital Medicine in Latin America. CFHI is a non-profit that provides individuals with the opportunity to learn about global health. Its trainees are immersed within a country's existing health and social service systems, and they work alongside local healthcare staff and community members. CFHI caught my eye because of its inspiring mission: it helps youth (like me) to become partners in achieving health equity and social justice around the globe, while empowering local communities to take charge of their own health narrative.
Through CFHI, I got the chance to shadow physicians in various hospitals and community clinics in Quito, Ecuador and Córdoba, Argentina. I observed many different specialties, including emergency medicine, hematology, pediatrics, and dermatology. In large city hospitals, I observed medical practices similar to what I might see in the US, and in a small community clinic I got a remarkable opportunity to observe indigenous medicine. The doctors I got to work with were fantastic – I was touched by how much they cared about their patients, and by how excited they were to share their day-to-day experiences with me. They encouraged me to ask countless questions, which I definitely did – and by doing so, I learned so much about healthcare and immensely expanded my Spanish medical vocabulary. With their help, I also got to take patients' health histories, participate in physical examinations, and analyze exam results.
Outside of shadowing and the Spanish language classes offered through CFHI, I explored Ecuador and Argentina, and it was everything I could have hoped for – not that it was anything like what I could have expected. Ecuador's unbelievably high altitude had us winded for a significant part of our time there, but it didn't stop us from traveling to Chimborazo, the highest mountain in Ecuador and the closest point on Earth to the Sun, going bungee jumping in Baños, and trying to hold onto our pride while facing off with Quiteños in soccer games. Argentina, much further from the Equator than Ecuador, got pretty chilly! But it made us enjoy the delicious Argentinian food even more (my personal favorites were asado and anything covered in dulce de leche). In our last week in South America, we traveled to Iguazú Falls, one of the world's Seven Natural Wonders, and it was as breathtaking as promised. When it came time to fly home, I was left with a great appreciation for the time I got to spend in Latin America and renewed excitement for the career I hope to pursue in medicine, already impatient to return to Latin America some day in the future.
---
Written by Jola Pach, a Class of 2018 Molecular, Cellular, Developmental Biology major. Tristan Perlroth Prizes are awarded to undergraduates for summer travel outside the United States to enhance students' understanding of foreign culture and/or international relations.