Image: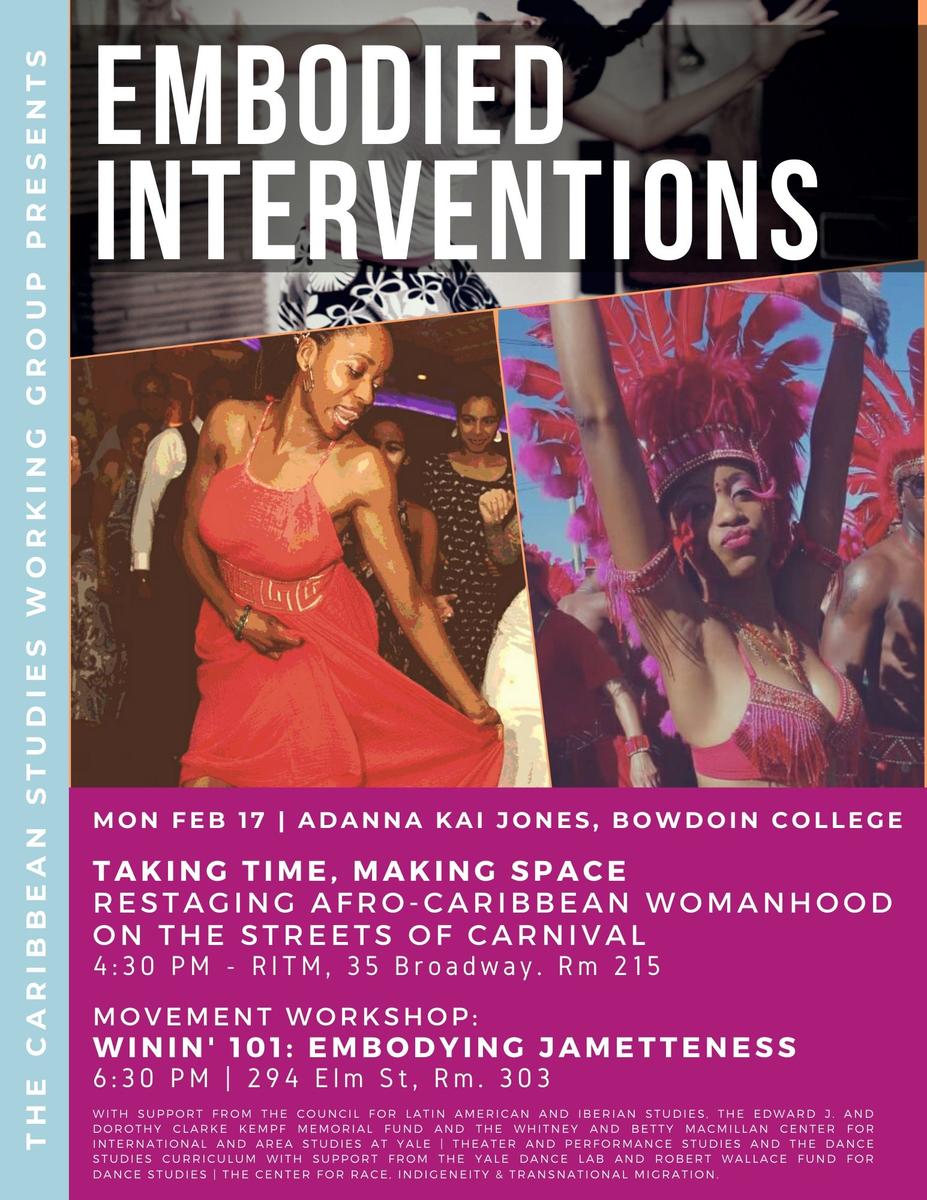 Monday, February 17, 2020 -

4:30pm

to

6:00pm
Location:
35 Broadway (BRWY35 ), 203
35 Broadway
New Haven
,
CT
06511
"Taking Time, Making Space: Restaging Afro-Caribbean Womanhood on the Streets of Carnival"
Through a deep consideration of the masquerade "Whitewash"—a processional performance presented by New Waves! NY at the 2017 annual West Indian-American Day Carnival of Brooklyn—this essay unveils the transgressive ways Carnival revelers carnivalized the streets of Brooklyn with their spectacular improvisatory dancing skills. As a band member of "Whitewash," I witnessed Makeda Thomas—who is both the founder of New Waves!, a Trinidad-based, performance-centered institute, and the bandleader of our small masquerade band—with her (fairly new born) babe in arms, her pregnant sister, and her mother scold the NYPD officers assigned to our band on how Carnival and time was meant to operate. In other words, the ways in which dancing bodies of the "Whitewash" masquerade transmitted representations of Caribbean nations under the disciplinary eye of the NYPD blatantly revealed the sweaty, laborious ways Afro-Caribbean bodies challenged, resisted, and transgressed state/white/police time and its effects. At the level of their bodies, "Whitewash" transgressed the NYPD's policies and renegotiated how time occurred along the Eastern Parkway, as well as how black bodies were visually consumed. Each dancing, reveling, masquerading, Diasporic body, thus found themselves toggling between multiple constructions of blackness and citizenship as they made space to jump, wine, and chip dong di road.
*This is the first part of a two-part program. At 6:30 pm Dr. Jones will teach a movement workshop *
Adanna Kai Jones is an Assistant Professor of Dance in the Department of Theater and Dance at Bowdoin College. She received her Ph.D. in Critical Dance Studies from the University of California, Riverside, and her BFA in Dance from Mason Gross School of the Arts, Rutgers University. Her research focuses on Caribbean dance and identity politics within the Diaspora, paying particular focus to Carnival and the rolling hip dance known as winin'. With regards to her creative endeavors, she has choreographed dance-theater pieces based on her research such as Wine & Tales, presented in Port of Spain, Trinidad, by New Waves! 2015 and the Dancing While Black Performance Lab, and Remembering D'Angelo's Untitled performed at Field Studies 2018 in New York City. Both works were rooted in her ethnographic fieldwork on the wine, Caribbean Carnivals, and the sexualization of Caribbean bodies.