Scholars Gather to Reflect on the Past and Future of Casa de las Américas at 60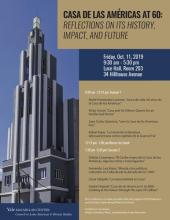 On Friday, October 11th, scholars from Cuba and the U.S. academic community gathered in Luce Hall to explore the history, cultural and social impact, and future of Casa de las Américas in Havana. The event was organized by Anibal González-Pérez, Professor of Spanish and specialist in Latin American literature and Reinaldo Funes Monzote, Visiting Professor at the MacMillan Center, Professor in the Department of History at the University of Havana.
Casa de las Américas was founded by the Cuban Revolution in 1959. As a research and publishing institution, it soon became one of the major forces that propelled the Latin American literary "Boom" of the 1960s and 70s. Through conferences and symposia held in Havana, and most notably in its annual international literary prizes, which featured as judges not only Cuban scholars and intellectuals but also prestigious artists and writers of the Latin American left, Casa de las Américas spearheaded a highly effective program of cultural outreach with Latin America aimed at countering Cuba's isolation from the rest of the Americas by the U.S.-sponsored commercial, economic, and financial embargo that began to be fully enforced in 1962. Most scholars agree that the Casa de las Américas prizes in literature helped shape the contemporary canon of Latin American literature by promoting the prestige of Latin American authors who would go on to become major figures in the region's literary and intellectual life.
Literature has not been Casa de las Américas's sole concern; its growth and development over the years led to the creation of a series of "departments" focusing on areas such as theater, visual arts, and music, as well as fields of study such as the Caribbean, women in the Americas, the Americas's African heritage, indigenous peoples of the Americas, and USA Latino studies. Casa de las Américas is also an important publishing house, publishing new Cuban, Caribbean, and Latin American authors and Spanish translations of seminal texts, such as the works of Frantz Fanon and Edouard Glissant. 
Sometimes idiosyncratic, always political, with bright and dark periods in its history, the story of Casa de las Americas mirrors that of Cuba itself and although its relevance has fluctuated over the years, the institution has remained a constant presence in contemporary Latin American culture.
At the conference, scholars presented a range of perspectives on the impact and role of Casa de las Américas, which included reflections on how the particular type of sociality supported by Casa de las Americas impacted the intellectual life of Cuba and Latin America, the presence (and absence) of African descended people in Casa de las Americas, and the impacts of climate change and natural disaster on the institution, which is located on el malecón (Havana's sea wall).  The gathering promoted provocative discussions and questions among participants and attendees.  
Two scholars traveled from Cuba for the event. Maité Hernéndez-Lorenzo, Director of Communication and Image at Casa de las Américas, presented about an exhibition documenting the linea de vida (timeline) of Casa's past 60 years which is currently on exhibition in Havana. Fernando Luis Rojas, a specialist in Cuban cultural policy, presented on cultural policy and the role of Casa de las Américas.
Professors Funes and González-Pérez felt it was important for CLAIS to host this event because as Funes stated, "Casa in one of the most important institutions, not just for Cuba, but for Latin America." One of the goals was to contribute to Casas de las Américas' goal for the 60th-anniversary celebration, which would reflect the impact of the institution. Funes said, "This is part of the celebration for the 60th anniversary of this institution. In conversation with [staff at Casa de las Americas], they said they would expand the commemoration of the 60th anniversary beyond the Casa de las Americas building and to have activities in many places. And that's why Aníbal and I considered that it was a good moment to meet here." 
This conference was made possible with the support of the Edward J. and Dorothy Clarke Kempf Memorial Fund.