Student travel and research presentations
On March 4, the Council on Latin American and Iberian Studies (CLAIS) and the European Studies Council (ESC) hosted presentations to highlight student research projects that were funded by these councils' travel grants. The event consisted of a lunch followed by a round of talks in which students, who were awarded grants to study various topics in Latin American and Europe last summer, had the opportunity to share the experiences and some of the findings of the research they had conducted.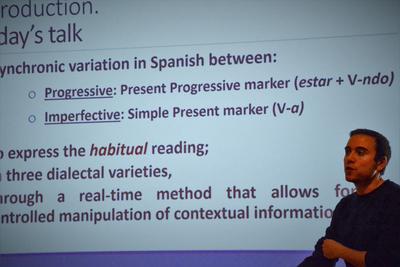 Martin Fuchs, a Ph.D. candidate in the Linguistics Department, kicked off the presentations with a discussion of his project entitled "The Underpinnings of Meaning Change." Martin received a CLAIS award that he used to partially cover the costs of his participation in the Buenos Aires Summer School in Linguistics (ELBA - Escuela de Lingüística de Buenos Aires) where he taught a course that explored semantic changes in different dialectics of Spanish. Martin's course was taken by more than 30 students from Argentina, Uruguay, and Brazil. He noted "I enjoyed being able to teach topics close to my research program, being able to further develop my teaching skills with a diverse student population."
 Next, Kiloya Dashevski, a graduate student in the Slavic Languages and Literatures Department, presented the findings of her research on social realism in Israel. She based her research on a group of artists who studied art and then later immigrated to Israel. Kiloya traces the connection between the deteriorating relations between Israel and the Soviet Union to trauma to this group of artists. Such a trauma resulted in the abandonment of realism in Israel.
Maile Speakman, from the American Studies Department, discussed her experience in the Beach Tech event that occurred in Jamaica at the end of 2019. Her research studies the technology markets in Cuba and the Caribbean. Maile recounted taking a break from studying technological capitalism in Cuba to blend in the environment of the event that happened at a resort in Jamaica. Her research is being developed on a series of interviews she conducted at the event, which she believes will be able to showcase attendees' preconceptions of the Caribbean and how the projects seen at the event echoed colonial enterprises in the area.
Finally, Emily Sigman, a student in the School of Forestry & Environmental Studies and in the Jackson Institute for Global Affairs, presented her research on the global cocoa supply chain. She used her CLAIS travel award to conduct research in Oaxaca, Mexico. Emily noted, "My field visit in Oaxaca was tremendously productive, complementing my research with producers in West Africa and chocolatiers in Europe."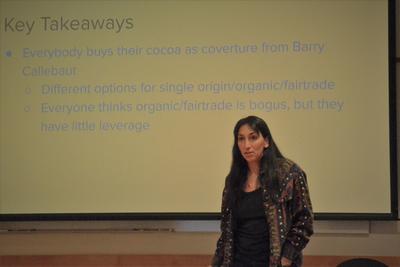 While in Oaxaca, Emily conducted interviews with a number of gourmet chocolate entrepreneurs, cacao marketeers, visited chocolate grinding facilities. She also conducted oral histories of traditional tejate makers (tejate is an indigenous drink made from cacao, maize and a tropical flower called "rosita de cacao") with While in Brussels, she questions the connections people commonly have of cacao being a European invention. Emily's research explores the culture around chocolate consumption, for which this visit to Oaxaca in Mexico provided several important insights to pre-Colombian uses of cacao that continue to this day.
The aim of this event was to highlight CLAIS and ESC Travel and Research presentations were hosted to provide students with a space to share their research and achievements. CLAIS and ESC hopes that this event can serve as an opportunity for the members of its community to learn from each other's work and to stimulate further research of Latin American and Iberian Studies.
---
Written by Bernardo Eilert Trevisan, Yale College Class of 2022.