Taking Time, Making Space with Dr. Adanna Kai Jones - Embodied Interventions in Caribbean Studies
The Caribbean Studies Working Group is an interdisciplinary group of scholars dedicated to the study of Caribbean culture, identity and society. We do not limit our study solely to the geographical area of the Caribbean Basin, but encourage the study of Caribbean histories, mobilities, and diasporas. Our bi-weekly meetings are a space for participants to engage foundational texts and ongoing and contemporary research, receive feedback on work-in-progress, and theorize the contours and futures of the field. We welcome anyone interested in furthering their understanding of the practice of Caribbean studies. While various iterations of a Caribbean studies working group have existed at Yale over the years, a group of graduate students came together in 2018-2019 to launch this group, with the support of professors Anne Eller and Carolyn Roberts. We decided to plan a speaker series for 2019-20 to expand interdisciplinary Caribbean studies conversations on campus. This resulted in the "Embodied Interventions" series and are very excited about the conversation, connections, and research possibilities that have emerged through this series.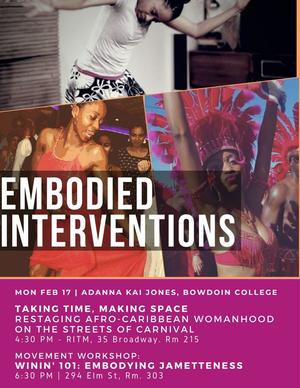 What is the intellectual work of dance? The answer: plenty. Caribbean "winin'" all at once teaches us about history, community, resistance, joy, sexuality, and various kinds of intimacies. And, physical and emotional endurance. Through her teaching and scholarship, Professor Adanna Kai Jones focuses on Caribbean dance and identity politics within the Diaspora, paying particular focus to Carnival and the rolling hip dance known as winin'. In a two-part event on February 17, she kicked off the Embodied Interventions series with her talk "Taking Time, Making Space: Restaging Afro-Caribbean Womanhood on the Streets of Carnival" which explored the masquerade "Whitewash"—a processional performance presented by New Waves! NY at the 2017 annual West Indian-American Day Carnival of Brooklyn. The second part of her offering was a movement workshop "Winin' 101: Embodying Jametteness," in which she taught participants about the bodily logic behind winin' and introduced participants to the deep histories of this dance culture, paying particular attention to the late-19th Century jamette figure of Trinidad.
From the beginning of her talk in the seminar room of the Center for Race Indigeneity and Transnational Migration, Dr. Jones had participants engaged in embodied research practices. As she explained the variety of approaches to winin' and hip rolling, she had us get out of our chairs and into our bodies so that we could feel and see the difference between the smooth circles of Trinidadian wine, choppier feeling of a Jamaican dagger, and the shuffling steps that propel the Carnival parade forward. For many, this was the first time they had been asked to get up and dance at an academic talk. A critical dance studies scholar, Jones' work is based on deep study and practice of the dance form, ethnographic research, and archival work. The dance is both object and research method, and it is through dance that she helped us all understand questions or power, gender, race, and cultural resilience in the Caribbean and its diaspora. Jones' talk explored a particular Carnival mas performance that took place in 2017 at the annual West Indian-American Day Carnival of Brooklyn, but in order to understand the importance of this event, Jones' has us travel through space and time to understand the role of the wine and Carnival characters throughout Trinidad's history and in the diaspora.
In the dance class that followed, we deepened our understanding of what Carnival feels like. Jones' movement workshop cultivated an understanding of the form and its power that was only possible through embodied practice.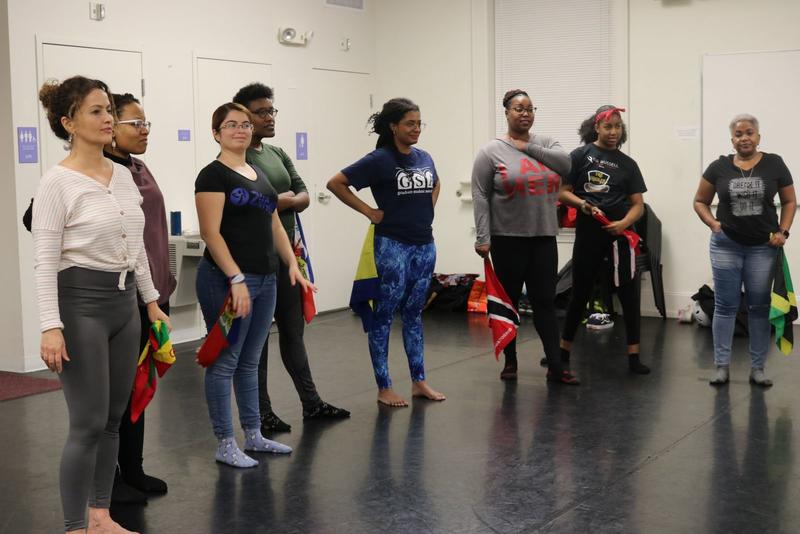 "FWEET!" "FWEET!" "FWEET!"
"Grab your flag and get ready for a workout."
 
The whistle was our signal to pump up and get ready. In Professor Jones's workshop, we worked our legs as we jumped, our arms as we waved, and we worked our minds - challenging preconceived notions of family, intimacy, and community. 
 
Winin' in Carnival is a profoundly social activity. Professor Jones taught us, that from start to finish, the march down the road cannot be completed alone. Love - both sensual and familial types of love - draw people to dance with one another. In the sensual case, the timing of a waist's movement offers an invitation to anyone who would like to wine with us for a song. Fleeting and flirtatious, this embodiment of love is meant to be free, exploratory, and noncommittal. Interlocked arms, hugs, and braced shoulders communicate the familial love also present at Carnival. This love is especially prevalent as people need each other to persist and overcome exhaustion to complete the celebration and finish the long march down the road. It is the love, and the freedom to love, one another and ourselves that drives the wine. Together with the music, these factors come together to embody the geography, history, and culture of Trinidad. 

With each new move, Professor Jones taught us the language of Carnival winin'. We learned to create space as we stomped past each other. Paced our jumping to reflect an explosion of energy or a moment to recharge. Hugged and held our dance partners and ourselves, winin' our love for the Caribbean all throughout the room.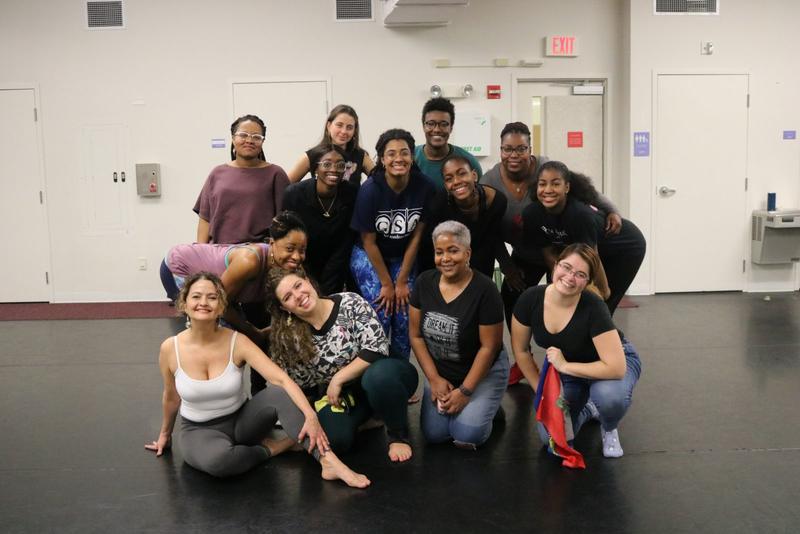 Written by Teanu Reid, PhD Candidate in African American Studies and History and Alison Kibbe, PhD Student in American Studies and African American Studies.
*******
Embodied Interventions is an initiative coordinated by the Caribbean Studies Working Group that explores embodied interventions to interdisciplinary research methodologies, scholarly and creative production, and theoretical terrains. We have invited three incredible scholars working on embodied research methodologies in and across the Caribbean and its diasporas – Dr. Adanna Kai Jones, Dr. Dasha Chapman, and Dr. Maya Berry. Each scholar gives a public talk on their research and leads a movement workshop, offering participants a chance to engage in the multiple facets of embodied research and praxis.
The initiative is coordinated by the Caribbean Studies Working Group, with the support of the Council for Latin American and Iberian Studies and The Edward J. and Dorothy Clarke Kempf Memorial Fund and The Whitney and Betty MacMillan Center for International and Area Studies at Yale; by Theater and Performance Studies and the Dance Studies curriculum with support from the Yale Dance Lab and Robert Wallace Fund for Dance Studies; and The Center for Race, Indigeneity & Transnational Migration.