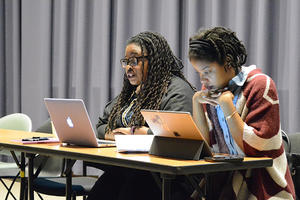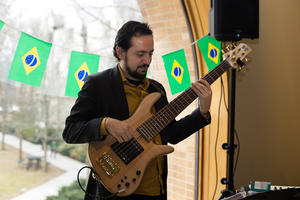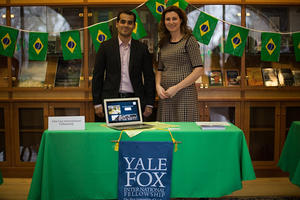 CLAIS faculty from throughout Yale are working on and in Brazil. In an effort to bring together Yale's diverse Brazil-related activities, CLAIS hosts an annual Brazil Activities Fair with informational booths and speakers. This interactive and celebratory event brings together campus programs and organizations focused on Brazil and students and faculty interested in the region to foster greater interaction and participation. Last year's program featured Ambassador Fernando de Mello Barreto, Consul General of Brazil in Hartford.
More recently, CLAIS has expanded its collaborative efforts for programming to include partners beyond Yale. CLAIS has established a strong relationship with the Ministry of Education in Brazil, and the two partners co-hosted two interdisciplinary conferences on Brazilian Studies in the United States. CLAIS also collaborated with Fundação Getulio Vargas (FGV) and the Oswaldo Cruz Foundation to put together an agenda with dynamic speakers from these institutions. These conferences, which built upon one another, brought together a diverse group of scholars to share their expertise and research and to further an exchange on the future of Brazilian Studies. A book with papers from these conferences is currently being compiled to be published in the fall of 2019. A follow-up to these conferences, focusing specifically on Public Health and Medicine, will be held at Yale in January 2020.
CLAIS has two visiting scholars from Brazil this academic year. Walter Fraga is Professor of History at the Universidade Federal do Raconcavo da Bahia, and his research focuses on post-abolition generations and black family trajectories in Bahia, Brazil. Claudia Ribeiro Pereira Nunes is Deputy Coordinator of the Graduate Program in Law and Co-coordinator of the Research Group on Global Comparative Law: Governance, Innovation and Sustainability at the Veiga de Almeida University. She studies global law and governance issues in respect to innovative technology challenges.
CLAIS has also hosted a variety of scholars working on Brazil during the Fall and Spring speaker series, helping to promote more dialogue around Brazil and related topics throughout the university. Several of the CLAIS Graduate and Professional School Affiliates focus their research on Brazil, and the CLAIS Student Grant Fellowship has allowed many to travel to Brazil for their research.