Although there is no advanced degree in Latin American Studies at Yale, graduate and professional students may draw upon resources of many departments in order to make Latin America their field of concentration while working toward their respective degrees in conventional disciplines.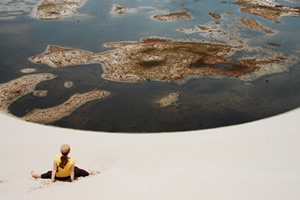 Students may pursue the graduate certificate of concentration in Latin American and Iberian Studies in conjunction with graduate degree programs in the Graduate School of Arts and Sciences and the Professional Schools. To complete the Certificate, candidates must demonstrate expertise in the area through their major graduate or professional field, as well as show command of the diverse interdisciplinary, geographic, cultural and linguistic approaches associated with expertise in Latin America or Iberia.
Admission is contingent upon the candidate's acceptance into a Yale graduate degree program, and award of the Certificate, beyond fulfilling the relevant requirements, is contingent upon the successful completion of the candidate's Yale University degree program.
Limited financial resources are available to graduate and professional school students.
Specific Requirements for the Graduate Certificate of Concentration:
Language Proficiency: The equivalent of two years study of one language and one year of the other. Normally, Spanish and Portuguese. Lesser-taught languages, such as Nahuatl, Quechua, or Haitian Creole, may also be considered for meeting this requirement.
Coursework: Six graduate courses in at least two different disciplines. No more than four courses may count in any one discipline.
Geographical and disciplinary coverage: At least two countries and two languages must be included in the coursework or thesis.
Research: A major graduate course research paper or thesis that demonstrates ability to use field resources, ideally in one or more languages of the region.
The Certificate Advisor of the Council on Latin American and Iberian Studies will assist graduate students in designing a balanced and coordinated curriculum. The Council will provide course lists and other useful materials.
Academic Resources of the Council
The Council supplements the graduate curriculum with term-long, thematically integrated lecture series and special seminars as well as conferences that bring visiting speakers to campus. The Council serves as a communications and information center for a vast variety of enriching events in Latin American studies sponsored by the other departments, schools, and independent groups at Yale, and as the link between Yale and Latin American centers in other universities, and between Yale and educational programs in Latin America and Iberia.
The Latin American Collection of the Yale Library is one of the oldest and largest collections of its kind in the United States. The materials are mostly in Spanish, Portuguese, English, and French, but there also several thousand titles in indigenous languages such as Nahuatl, Quechua, Aymara, Quiche, Pipil, and others.  In addition to printed matter, the collection is rich in manuscript material, and it contains a newspaper microfilm collection, as well as such non-book materials as photographs, documentary film, sound recordings, and sheet maps. See Library Collections for more information.
Information about the Graduate Certificate of concentration in Latin American Studies should be addressed to the Council on Latin American and Iberian Studies, Yale University, PO Box 208206, New Haven, CT 06520-8206.