Gender in Science, Technology, and Innovation
Working Group Coordinator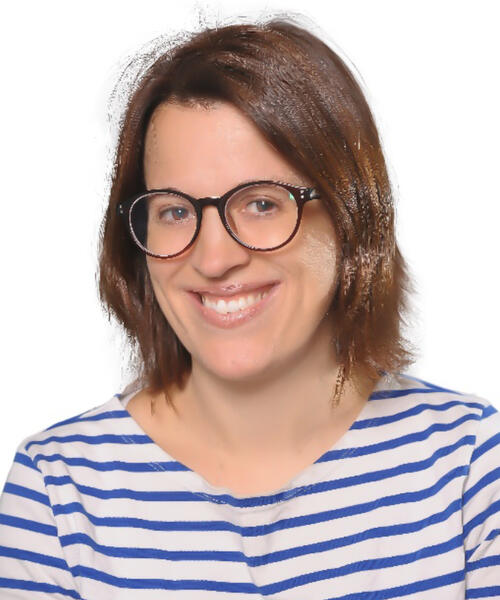 la Pontificia Universidad Católica de Chile
Bio (English)
Jeanne Hersant obtained her PhD in Sociology from the Ecole des Hautes Etudes en Sciences Sociales in Paris (2007). After a postdoctoral fellowship in Germany (Albert-Ludwigs-Universität Freiburg), she started her academic career in Chile. Since 2018 she is an assistant professor at the School of Social Work of the Catholic University of Chile. Her research interests include access to justice and the social construction of knowledge and scientific skills, as well as interdisciplinarity. She is one of the main investigators of the 3-year interdisciplinary project "Gender and Mathematics" funded by the Chilean Research Agency (PIA-ANID ANILLO SOC180025): www.anillomatematicasygenero.cl
Bio (Spanish)
Jeanne Hersant obtuvo su doctorado en Sociología por la Escuela de Altos Estudios en Ciencias Sociales en París (2007). Luego de un postdoctorado en Alemania (Albert-Ludwigs-Universität Freiburg), se ha desempeñado académicamente en Chile. Desde el 2018 es profesora asistente en la Escuela de Trabajo Social de la Pontificia Universidad Católica de Chile. Sus temas de investigación se relacionan con el acceso a la justicia, la construcción social del conocimiento y las competencias científicas, así como la interdiscipinariedad. Jeanne Hersant es una de las investigadoras titulares del proyecto interdisciplinar "Matemáticas y Género" fundado por la Agencia Nacional de Investigación y Desarrollo (PIA-ANID ANILLO SOC180025): www.anillomatematicasygenero.cl.
Group Members
Universidad Nacional Autónoma de México
Bio (English)
Associate Researcher, Center for Research and Gender Studies (CIEG), UNAM
Dr. César Torres Cruz joined CIEG in 2020 as a researcher with a project that critically analyzes some of the social processes of the feminization of Human Papilloma Virus (HPV) and cervical cancer in Mexico City. Dr. Torres is part of the Mexican National System of Researchers (SNI-CONACyT). He has a PhD in Social and Political Science with orientation in Sociology from UNAM, a MA in Social Science and Humanities (with specialization in Gender Studies and Sociology) from Autonomous Metropolitan University, Cuajimalpa, and a degree in Social Communication from Autonomous Metropolitan University, Xochimilco. He did his postdoctoral fellowship at the UNAM School of Sciences' Science and Technology Studies Group. Dr. Torres Cruz has taught undergraduate and graduate level courses on feminist theories, gender studies, sexuality studies, masculinities, social theory, and qualitative methodologies.
His research interests include gender, health, and sexuality inequalities; social studies of biomedicine and health; queer and LGBTI+ studies in Mexico.
Bio (Spanish)
Investigador del Centro de Investigaciones y Estudios de Género (CIEG) de la UNAM.
En el 2020, el Dr. Torres se integró al CIEG como investigador con un proyecto que analiza de manera crítica algunos de los procesos sociales de la feminización del Virus del Papiloma Humano (VPH) y el cáncer cervicouterino (CaCu) en la Ciudad de México. Forma parte del Sistema Nacional de Investigadores del Consejo Nacional de Ciencia y Tecnología de México (SNI-CONACyT). Es doctor en Ciencias Políticas y Sociales, con orientación en Sociología por la UNAM, maestro en Ciencias Sociales y Humanidades (con línea de especialización en Sociología y Estudios de Género) por la Universidad Autónoma Metropolitana (UAM), unidad Cuajimalpa y licenciado en Comunicación Social por la UAM-Xochimilco. Realizó una estancia posdoctoral en el grupo de estudios de la ciencia y la tecnología de la Facultad de Ciencias de la UNAM. El doctor Torres Cruz ha impartido asignaturas a nivel licenciatura y posgrado sobre feminismos, estudios de género, sexualidades, masculinidades, teoría social y metodología cualitativa.
Sus intereses de investigación son: género, salud y sexualidad; estudios sociales de la biomedicina y la salud; estudios queer y LGBTI+ en México.
Bio (English)
Chair of the Council of Latin American and Iberian Studies at the MacMillan Center for International Studies of Yale University, USA Professor of Anthropology
Professor Valeggia is originally from Buenos Aires, Argentina, from where she received her degree in biological sciences (U of Buenos Aires).  She received her PhD from the University of California, Davis in 1996 and then went on to do a postdoc at Harvard University. In 2005 she joined the Department of Anthropology at the University of Pennsylvania and in 2014, she moved to Yale University where she is a professor in the Department of Anthropology.
Her work is primarily concerned with human reproductive biology and the ecological and cultural context in which it develops. Her research program takes a biosocial/biocultural approach to understand reproductive patterns, maternal and child health, and the health of Latin American indigenous populations. She thanks the Qom of the province of Formosa, Argentina for their collaboration, patience, and friendship.
Bio (Spanish)
Directora del Consejo de Estudios Lationamericanos e Ibericos del Centro MacMillan de Estudios Internacionales de la Universidad de Yale, Estados Unidos
Profesora de Antropología
La Dra. Valeggia nació en Buenos Aires, Argentina, lugar donde obtuvo su título de Licenciada en Ciencias Biológicas (U de Buenos Aires). Recibió su doctorado de la Universidad de California en Davis en 1996 y luego completó un postdoctorado en la Universidad de Harvard. En el 2005 la contrataron como profesora en la Univ. de Pennsylvania (EEUU) y en el 2014 se muda a la Universidad de Yale, donde actualmente se desempeña como profesora en el Departamento de Antropología.
Su trabajo se concentra principalmente en la biología reproductiva humana y el contexto ecológico y cultural en el que ésta se desarrolla.  Su programa de investigación tiene un enfoque biosocial/biocultural para entender patrones reproductivos, salud materno-infantil, y la salud de los pueblos originarios en América Latina.  La Dra. Valeggia agradece a los Qom de la provincia de Formosa, Argentina, por su colaboración, paciencia y amistad.
Centro de Investigaciones y Estudios de Género
Bio (English)
Guadalupe Palacios-Núñez is a social sciences researcher who focuses on Science, Technology, and Innovation Policy from a gender perspective. She is interested in building indicators of women´s participation in science and technology to know the impact of science policy. She holds a Ph.D. in Public Policy, a Master of Sciences in Local Development, and a Bachelor's in Business Administration. Currently, Guadalupe is a postdoctoral researcher at the Centro de Investigaciones y Estudios de Género (CIEG), Universidad Nacional Autónoma de México, where she is working on gender mainstreaming in higher education.
Universidad Nacional Autónoma de México
Bio (English)
Nayana Guerrero is a Ph.D. student in Administrative Sciences at the National Autonomous University of Mexico (UNAM). She is currently developing research on digital inclusion and women entrepreneurs. Nayana holds a Master's degree in Technology Administration from the UNAM and a Bachelor's Degree in Business Administration from the Monterrey Institute of Technology and Higher Education (Tec de Monterrey), and specialized studies in Economics and Business at Sciences Po Paris. She has taken several courses and training on gender, business, and women's rights.
Nayana is currently an intern at The United Nations Global Compact for Latin America and the Caribbean. She has also coordinated and directed innovation projects and new technologies in private companies, such as saXsa, a data science Mexican firm. In dissemination, she has given conferences and courses in different universities and organizations related to gender equality and information and communication technologies in the business world. Presently, Nayana is a member of The Latin American Interdisciplinary Gender Network at The MacMillan Center at Yale University.
Nayana has received several distinctions, including the National Award of Professional Excellence, 2018 edition by the National Chamber of Women, and she is a recipient of the Alfonso Caso medal. Currently, Nayana is a professor at UNAM and The Tec de Monterrey. Ms. Guerrero is an active member of the Mexican Federation of University Women (FEMU). She is also responsible for the Sciences Po Au Féminin Mexico Association, President of the Gender Equality Committee of the National Council of Business Women, and Vice President of Gender Equality of the Young Entrepreneurs Commission COPARMEX CDMX.
Bio (Spanish)
Nayana Guerrero es doctoranda en Ciencias Administrativas en la Universidad Nacional Autónoma de México (UNAM). Actualmente desarrolla una investigación sobre inclusión digital y mujeres empresarias. Tiene una Maestría en Administración de Tecnología de la UNAM y una Licenciatura en Administración de Empresas del Instituto Tecnológico y de Estudios Superiores de Monterrey (Tec de Monterrey). Asimismo, Nayana cuenta con estudios de especialización en Economía y Negocios en Sciences Po Paris y ha realizado diversos cursos y capacitaciones sobre género, empresas y derechos de la mujer.
Nayana es actualmente pasante en el Pacto Global de las Naciones Unidas para América Latina y el Caribe. La Mtra. Guerrero ha coordinado y dirigido proyectos de innovación y nuevas tecnologías en empresas privadas, como saXsa, una firma mexicana de ciencia de datos. En el área de difusión, Nayana ha impartido conferencias y cursos en diferentes universidades y organismos relacionados con la igualdad de género y las tecnologías de la información y comunicación en el mundo empresarial. Nayana es miembro de la Red Latinoamericana Interdisciplinaria de Género en el Centro MacMillan de la Universidad de Yale.
Nayana ha recibido varias distinciones, entre ellas el Premio Nacional a la Excelencia Profesional, edición 2018 de la Cámara Nacional de Mujeres. Es ganadora de la medalla Alfonso Caso en reconocimiento a su destacado desempeño en los estudios de Maestría en Administración realizados en la UNAM. Actualmente es profesora del Tec de Monterrey y de la UNAM, también es integrante de la Federación Mexicana de Mujeres Universitarias (FEMU), es responsable de la Asociación Sciences Po Au Féminin México, Presidenta del Comité de Igualdad de Género del Consejo Nacional de Mujeres Empresarias y Vicepresidenta de Igualdad de Género de la Comisión de Jóvenes Empresarios de COPARMEX CDMX.
Suzette M Sánchez Iudicello
Bio (English)
I was born in Córdoba, Argentina and I am currently living in Bariloche, Rio Negro Argentina. I am a Psychologist from the National University of Córdoba. I have a Gender, Social Sciences and Public Policy Diploma from the Latin American Faculty of Social Sciences, FLACSO; a Master's Degree in Gender and at the present time I am a PhD candidate in Social Sciences from the Latin American Faculty of Social Sciences (FLACSO, Argentina). I am also currently working as a National Scientific and Technical Research Council's Doctoral Fellow at the Institute for Research in Cultural Diversity and Process of Change, (IIDyPCa) of the National University of Rio Negro-CONICET. My Research Project focuses on institutionalization and implementation of gender policies processes in state spaces of Science and Technology, in which I investigate perceptions, representations, incorporation strategies, resistance and resilience of the Gender agenda.
Bio (Spanish)
Suzette M Sánchez Iudicello. Nací, en Córdoba Argentina y actualmente vivo en Bariloche, Rio Negro Argentina. Soy Psicóloga por la Universidad Nacional de Córdoba, Diplomada en Género, Ciencias Sociales y Políticas Públicas por la Facultad de Latinoamericana de Ciencias Sociales, FLACSO, Maestranda en Género y políticas Públicas y Doctoranda en Ciencias Sociales de la misma universidad (FLACSO, Argentina). Actualmente me desempeño como Becaria Doctoral del Conicet en el Instituto de Investigaciones en Diversidad Cultural y Proceso de Cambio, (IIDyPCa) Universidad Nacional de Rio Negro-CONICET. Mi Proyecto de Investigación se centra en los procesos de institucionalización y puesta en práctica de políticas de género en espacios estatales de Ciencia y Tecnología, en las cuales investigo sobre percepciones, representaciones, estrategias de incorporación, resistencias y resiliencias de la agenda de Género.