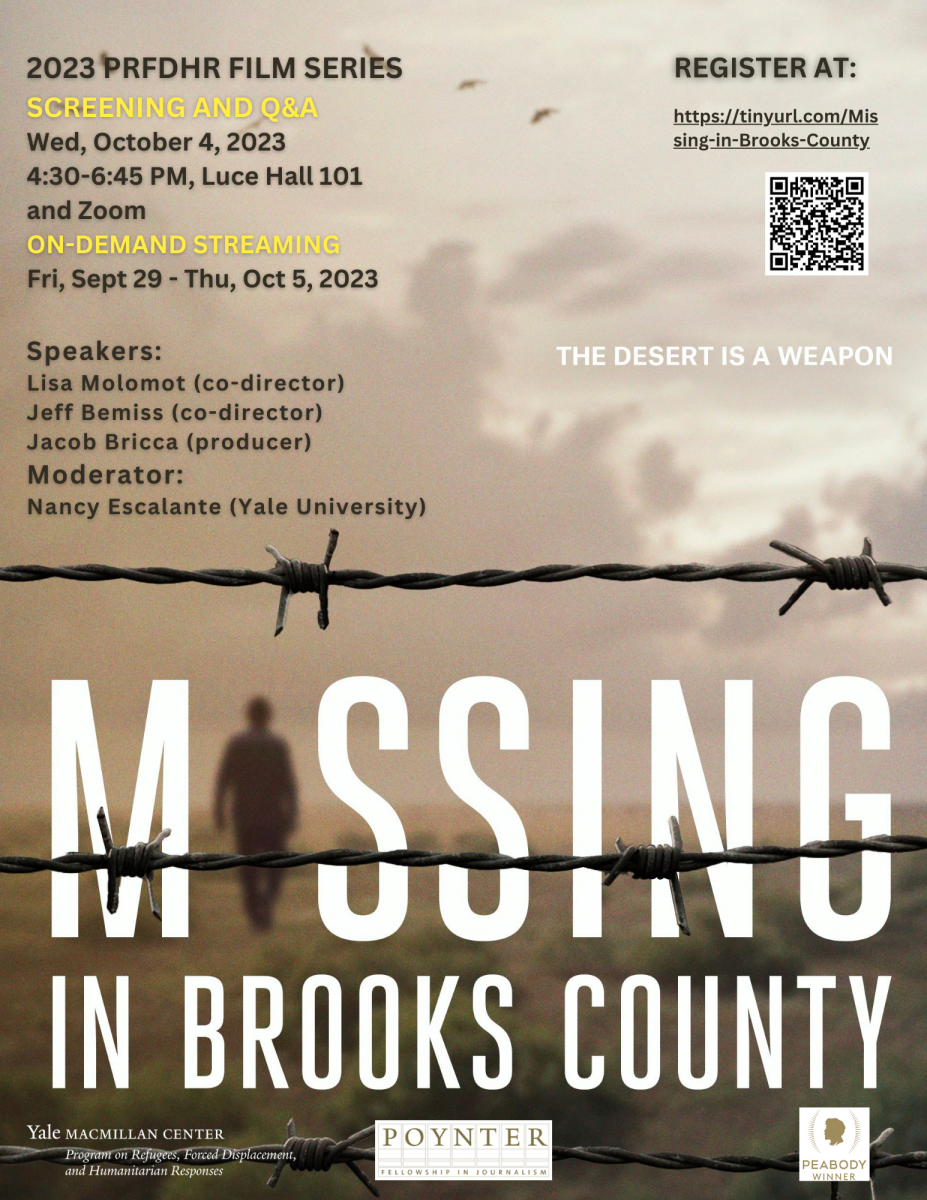 Wednesday, October 4, 2023 -

4:30pm

to

6:45pm
Location:
Henry R. Luce Hall LUCE, 101 (Auditorium)
34 Hillhouse Avenue
New Haven
,
CT
06511
Speaker/Performer:
Lisa Molomot (co-director) Jeff Bemiss (co-director) Jacob Bricca (producer)
Movie screening Wednesday, October 4th, 2023 (in-person; 4:30pm; 81mn) followed after short break by Q&A session (hybrid; 6:00pm; 45mn); and
Friday, September 29th, 2023 - Thursday, October 5th, 2023 (on-demand film screening).
70 miles north of the Mexican-US border lies Brooks County, Texas - a haunted, inhospitable place where thousands of immigrants have gone missing or died over the past decade. Missing in Brooks County follows the journey of two families who arrive in Brooks County to look for their loved ones, only to find a mystery that deepens at every turn. Stuck between the jurisdiction of border agents, local law enforcement, and cartels, the county is a barren landscape designed as a deterrent to illegal crossings. Despite this tactical designation, the municipality has never been provided the resources to process the remains of the hundreds of undocumented immigrants who succumb to dehydration and exposure each year. Missing in Brooks County is a potent reminder that these deaths are more than a statistic—each represents a living human being, loved by their family, now lost.
Lisa Molomot has directed and edited award-winning documentaries about the American Southwest in recent years including THE CLEANERS and SOLEDAD. A recent Fulbright Scholar, she teaches a course at the James E. Rogers School of Law at the University of Arizona where she has worked with the Immigration Law Clinic for the past four years and has also taught in the UA Human Rights Practice Graduate Program.
Jeff Bemiss is an award-winning writer/director who has worked in shorts, features and documentaries, Jeff's work has aired on network television and PBS. Originally trained in scripted filmmaking, Jeff's film THE BOOK AND THE ROSE was a semi-finalist for the Academy Award for best short film. Jeff is a Connecticut Artist Fellow and a Film Independent Fast Track Fellow. He freelances for disability and social activist clients and teaches film at Trinity College in Hartford, CT.
Jacob Bricca has edited over a dozen feature documentaries including the 2016 Sundance Special Jury Prize winner THE BAD KIDS and the international theatrical hit LOST IN LA MANCHA. Jacob brings experience editing multi-cultural stories, has produced two feature length documentaries, is an Associate Professor at the University of Arizona's School of Theatre, Film & Television, and is the author of the definitive volume on documentary editing, Documentary Editing: Principles and Practice
The Q&A will be led by Nancy Escalante, an American Studies graduate student at Yale University, who specializes in Central American Studies, Cultural Studies, Public Humanities, Historical Memory and Archiving and Curation.
Speakers:
Lisa Molomot (co-director)
Jeff Bemiss (co-director)
Jacob Bricca (producer)
Moderator:
Nancy Escalante (Yale University)
Sponsors:
The Program on Refugees, Forced Displacement, and Humanitarian Responses, the Poynter Fellowship in Journalism, and the Film and Media Studies Program at Yale.
Admission:
Free but register in advance