Alumni Spotlight: Colum O'Connor
A Cuban-American from Brooklyn, New York, Colum O'Connor is a Yale College Class of 2018 Latin American Studies graduate. A talented drummer and musician with a passion for educational equity, O'Connor is now a second-grade teacher through Teach for America in San Francisco, California.
Music and the Latinx Caribbean community of his home city of New York were two impactful cultural influences on O'Connor while growing up. Member of an Afro-Latin youth band directed by one of O'Connor's musical idols, Arturo O'Farrill, Latinx and Caribbean music were passions of O'Connor's life that he continued to nurture during his years at Yale. "Music was a top priority of mine while at Yale.", O'Connor noted, "It provided extensive contributions to my social life and academic curiosity. My studies became the music that I played, and the music that I played was derived from my studies. Many of the close friends at Yale were largely from my musical pursuits. Playing in dining halls on Sunday dinners, or performing at Spring Fling—I always sought opportunities to collaborate and perform with my peers." O'Connor credits music with keeping him centered during those four years. He played the drums for various jazz and Afro-Latin ensembles all around the Yale campus and became one of the earliest members of La Orquesta Tertulia—Then Yale's only student band dedicated to Latin music. As president of the Yale Undergraduate Jazz Collective O'Connor also was dedicated to making professional jazz music accessible to all students and bringing professional jazz music to Yale's campus. O'Connor and his team raised over $30,000 for the Collective's annual Student-run Yale Jazz Festival. The three-day festival presented multiple Grammy award-winning artists in performances that were free and open to the Yale and greater New Haven communities.
O'Connor's path to becoming a Latin American Studies major resulted from a confluence of his interest in languages, his love for in Latinx culture and music, and curiosity about his Cuban heritage. "I actually ended up taking Portuguese on a whim in my first year at Yale. It ended up being my most rewarding, fun class that I grew the most in. It also happened to be a requirement for Latin American Studies. My musical interests also started coinciding with the creative courses offered by the major." O'Connor said that the final factor in majoring in Latin American Studies was his desire to have a better academic understanding of his heritage and his family's history. "I wanted to understand the history and sociology behind my mother fleeing Cuba. She has never been much of a storyteller, and I cared so much about what the world looked like through her eyes–I just had to find a different way of learning that history.
Through the Latin American Studies program, O'Connor took part in the History and Culture of Cuba course and class trip to Cuba taught and led by Professors Albert Laguna and Reinaldo Funes. Of that class trip, which took place over spring break, he said, "The trip was outstanding. Aside from loving the different museums, cities, and architectural wonders of Cuba, I had a great time with my classmates. They were all so receptive to a new land, genuinely fun to be around, and visibly as eager (if not more) as I was to learn about a place that I had heard so much about growing up. As a musician, someone who dreams of devoting myself to Afro-Latin jazz, my time in Cuba could have been the start of my journey into the world of music." In addition to allowing him to explore his own Cuban culture and identity and allowing him to deepen his understanding of Afro-Cuban music, O'Connor also credits his Latin American Studies experience with introducing him to the diverse cultures and languages of Latin America.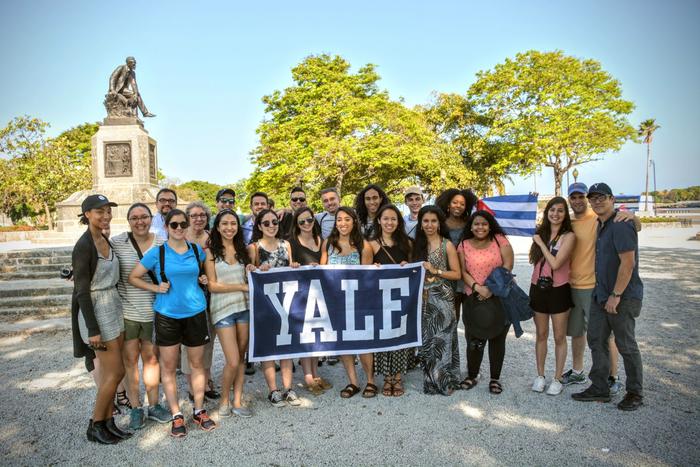 As graduation neared O'Connor was not immediately sure of what his post-graduate path would be, but his love for education drew him to apply early to Teach for America. Despite being rejected upon his first try, O'Connor decided it would be worth a shot to apply once more and was eventually granted placement to teach elementary school in San Francisco, California.
Although a New-Yorker at heart and having only been to California for two short visits, O'Connor was excited to teach in the Mission District of San Francisco, a region of the city with a strong Latinx population, to be able to work with and impact children from a similar background as himself. He describes his teaching style as high-energy and describes his classroom environment as centered on playtime and joy. "I try to weave songs, jokes, and games into all aspects of my instruction, and my second graders respond very well to it. It's remarkable to see how different students' lives could be throughout their schooling experience with more joy factor on a daily basis."
O'Connor notes that the coronavirus pandemic has meant having to face new challenges. "With the under-resourced communities that I work with, these massive challenges are already commonplace, and COVID-19 has simply magnified all of them. Access to technology, internet, food, childcare, language support, emotional support, mathematics remediation, and the list goes on. But of course, I still wake up every day to greet my kids at 9 am and it still brings the biggest smile to my face–albeit this time with more pajamas and plushies.
Having only graduated from Yale two years ago, O'Connor is a shining example of the meaningful and worthwhile work that teachers perform for students every day. When asked about his future career path, O'Connor admits that his love for education and music has been the internal dilemma of his life—and he is continuously searching for ways to marry his two life passions. As a teacher, he is always searching for ways to blend music and arts educations for his young students whenever he can. From bringing his bands to play for the students to inviting Yale's own acapella group, Shades, to play at for his school, O'Connor believes that music and education go hand in hand and that all students should have access and exposure to the arts—regardless of their background.