Chinese Overseas Investment Impacts Symposium Brings Together Key Scholars to Yale
On February 28, 2020, the Council for Latin American and Iberian Studies co-sponsored the 4th Yale Symposium on Chinese Overseas Investment Impacts held at Yale School of the Environment.
This year's symposium, which is entitled "From Policies to Practices," dug beneath the high-level discourse on the environmental impacts of China's Belt and Road Initiative (BRI) and other overseas investments. The two keynotes, two panels and three afternoon case sessions explored whether and how recently revitalized commitments to green standards on paper can be implemented, as well as where policies and practices are currently working or falling short. Featuring a diverse range of stakeholder and geographical perspectives, the symposium illustrated how threats related to climate, biodiversity, and other environmental factors play out in local communities and on a global scale, with an emphasis on extrapolating perceived versus actual opportunities and challenges for improving critical environmental and social safeguards.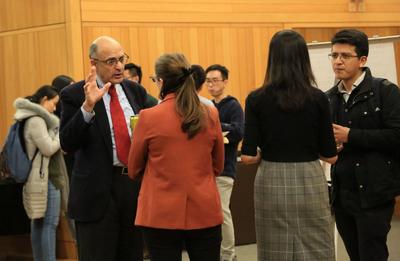 In particular, Ruben Gonzalez-Vicente, who is a lecturer specializing in China's engagement in Latin America and the Caribbean at Leiden University in the Netherlands, presented his research on Chinese investments, neo-extractivism and the development in Latin America and the Caribbean. Through cases in Peru, Ecuador and Jamaica, Ruben discussed how Chinese extractive and infrastructure activities fall in the middle of a number of conflicts pertaining to indigenous rights, postcolonial exclusions and the very meaning of development.
The symposium brought eighteen scholars, activists, and practitioners from the United States, Europe, and Africa to Yale F&ES for a full day of meaningful discussions on the environmental and social impacts of Chinese overseas investment. It also provided a platform for students and faculty who are interested in China's global environmental impacts to learn about the most recent research and discussions on this topic, as well as network with experts in the field.
---
Written by Zhinan Chen, Yale School of the Environment