Tracing Connections between Art and Independence in Brazil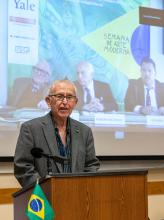 An enthusiast group of scholars, students, and political leaders gathered on September 23 and 24 to reflect on art and independence in Brazil. They came from all over the United States and Brazil for the conference "The Road Ahead, Brazil 100/200: Reflections on the Legacies of the Week of Modern Art and the Bicentennial of Independence" co-organized by Professor David Jackson from the department of Spanish and Portuguese, and Professor Stuart Schwartz from the History Department. 
The conference had several components and was co-hosted in-person at Braudel Institute in São Paulo, Brazil and at Yale University in New Haven, as well as transmitted and available for virtual viewing via Zoom. The reception in São Paulo was co-hosted by the Yale Club of Brazil with welcome remarks by Ya Ping Chang, President of Yale Club of Brazil. 
 On Saturday 23, the conference kicked off with remarks from Roberto Mesquita, Executive Director of the Braudel Institute, Claudia Valeggia, Chair of the Council on Latin American and Iberian Studies, Stuart Schwartz and David Jackson. After the initial panels, Brazil in Year Zero: The Meanings of Independence in 1822 and for the Next 100 Years and Modernisms 1922-2022: Defining National Culture 100 Years after Independence, participants gathered in Luce Hall for a reception.
On Sunday 24, the conference started early, beginning the day with breakfast and the panel Brazil in 2022: Reflections on the Meanings of Independence 200 Years Later, followed by a brief break for lunch and afterwards the last panel Anthropophagic Brazil: Reflections on the Legacy of Antropofagia in 2022. Professors Stuart Schwartz and David Jackson gave the final remarks to close the academic events of the conference. To finish the weekend, musicians Rogério Souza and Stephen Guerra performed music by renowned Brazilian Choro composer Pixinghinha.
This conference was co-sponsored by The Council on Latin American Studies at the Yale MacMillan Center, the Yale Office of International Affairs, Braudel Institute in Sao Paulo, FGV Direito Rio (FGV Law School), and USP.
To read more about the conference and Yale's ties to Brazil, go here.
Watch the recordings:
By Alan Mendoza, Graduate Communications Fellow, alan.mendozasosa@yale.edu