Welcoming Brazilian Students, Fellows & Faculty: A Memorable Event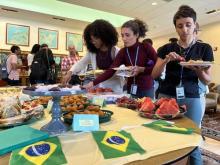 Students, faculty, scholars, and staff members interested or involved in Brazil-related projects gathered on Thursday, September 8th to take part in a welcoming event for the Brazilian community at Yale. This celebration, a collaborative event between the Office of International Affairs (OIA), the Office of International Students and Scholars (OISS), the Council on Latin American & Iberian Studies (CLAIS), and the Brazil Club at Yale, took place from 4pm to 6pm in Luce Hall, venue at which the attendees were able to enjoy an evening filled with bossa nova played by Brazilian students, authentic Brazilian salgados, brigadeiros, and beijinhos, and naturally, amenable conversation.
Yale's Associate Vice President for Global Strategy Don Filer opened the event by welcoming the participants, emphasizing how wonderful it was to have such a great turnout and delicious food, as well as thanking the people who made such a gathering possible. Following Don's welcoming remarks, the Chair of the Council on Latin American & Iberian Studies (CLAIS) Claudia Valeggia talked about the Brazil-related projects that CLAIS has been sponsoring and supporting throughout the years, such as a unique collaboration between the Brazilian Ministry of Education, UNESCO, and other partners; Iniciativa Proxima, a mentorship program aimed at supporting Brazilian students in developing the necessary skills to pursue a career in biological and biomedical sciences; as well as courses related to Brazil taught at Yale by Brazilian faculty. Additionally, she made sure to invite all the attendees to the upcoming celebration of the 200th anniversary of the Brazilian independence and the 100th anniversary of the Modern Art Week in São Paulo taking place on September 23rd and 24th at Luce Hall.
Additionally, the Co-Presidents of Brazil Club Eduardo Wichmann and João Pedro Denys also shared some words about the event: "This is a really special event for Brazilians in general, as it is always very nice to get in contact with the faculty that are doing research about our country as well as graduate students and other Brazilian students in general." They also encouraged all students interested in Brazil to reach out to them. "It really warms my heart to see a lot of people here wanting to get involved with Brazil.
If any student is interested in getting in contact with Brazil Club, please don't hesitate to reach out to us, the more the merrier – Brazil Club is like a mother's heart, there's always room for another one," Eduardo assured. "We have Brazil Club dinners every Monday at 6pm, at the Branford dining hall small room; it is a very nice opportunity to see and talk to each other, everyone is welcome," added João Pedro. For anyone interested in reaching out to Brazil Club, Eduardo's email is eduardo.wichmann@yale.edu
Leda Blaires Ciotti
leda.blairesciotti@yale.edu