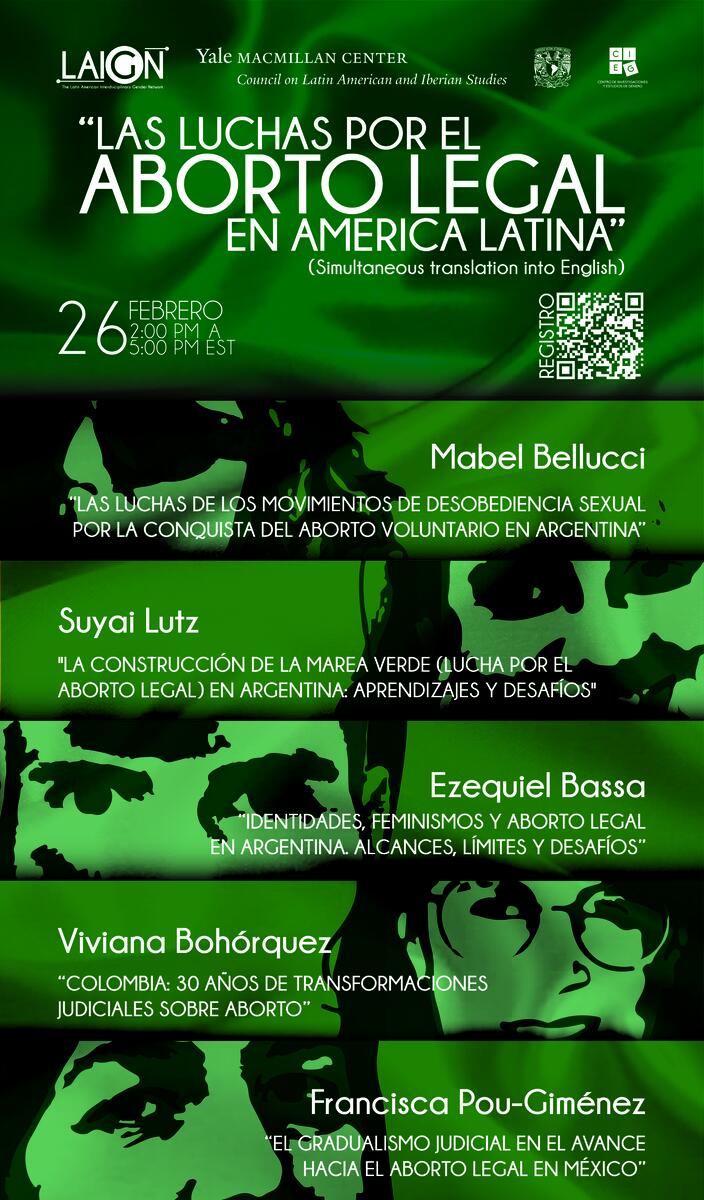 Friday, February 26, 2021 -

2:00pm

to

5:00pm
Join us for a special webinar series slated to be held on the last Friday of every month as part of a collaborative effort with CLAIS, Latin American Interdisciplinary Gender Network, and The National Autonomous University of Mexico (UNAM) to highlight gender studies and gender issues in Latin America.
The event on February 26 will feature scholars and practitioners discussing the struggles related to legalizing abortion in Latin America.
This event will be in Spanish with simultaneous English translation.
Register for the event here: https://yale.zoom.us/webinar/register/WN_amk07Z-JQtC70HMj_XhcTQ
This event will be in Spanish with simultaneous English translation. The panelists' and their presentation titles are listed below: 
Mabel Belluci
"Las luchas de los movimientos de desobediencia sexual por la conquista del aborto voluntario en Argentina"
Activista feminista queer, Periodista y escritoria. Co-editora del sitio online Moléculas Malucas, Archivos queer y Memorias fuera del margen.
Suyai Lutz 
"La construcción de la marea verde (lucha por el aborto legal) en Argentina: aprendizajes y desafíos" 
Activista feminista y por el derecho al aborto legal, seguro y gratuito. Abogada y Diplomada en Igualdad y No Discriminación (UBA). Integrante de la organización Abriendo Caminos de Argentina.
Ezequiel Bassa 
"Identidades, feminismos y aborto legal en Argentina. Alcances, límites y desafíos"
Maestrando en Estudios y Políticas de Género (UNTREF); Licenciado y Profesor en Sociología (UBA); y activista de la Colectiva de Disidencias Sexogeneropolíticas en la Campaña por el Derecho al Aborto de la Argentina.
Viviana Bohórquez Monsalvez
"Colombia: 30 años de transformaciones judiciales sobre aborto" 
Abogada feminista, con LLM en Derechos Humanos de la Universidad Central Europea y PhD en Derecho de la Universidad de los Andes. Experta en aborto y cambios institucionales en Colombia. Consultora en derechos sexuales y reproductivos. 
Francisca Pou Giménez
"El gradualismo judicial en el avance hacia el aborto legal en México"
Profesora titular del Departamento de Derecho del ITAM e integrante del Sistema Nacional de Investigadores de México. Especialista en derecho constitucional comparado, poder judicial y protección de derechos reproductivos y la no discriminación).