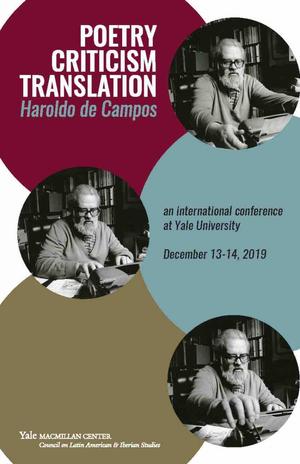 On December 14, 2019, Luce Hall was filled with scholars from around the world who gathered to discuss the life, work, and legacy of Brazilian poet, critic, professor and translator Haroldode Campos (1929-2003). The day-long conference "Poetry, Criticism, Translation" was convened by Kenneth David Jackson, professor of Portuguese and member of the Council on Latin American & Iberian Studies, in collaboration with Eduardo Jorge de Oliveira of the Universität Zürich. The two scholars met at an event in Zurich in 2018 and after a series of exciting conversations about Harold de Campos,they decided the convene an international series of conferences focused on the Brazilian poet and essayist, marking what would have been his 90th year of life.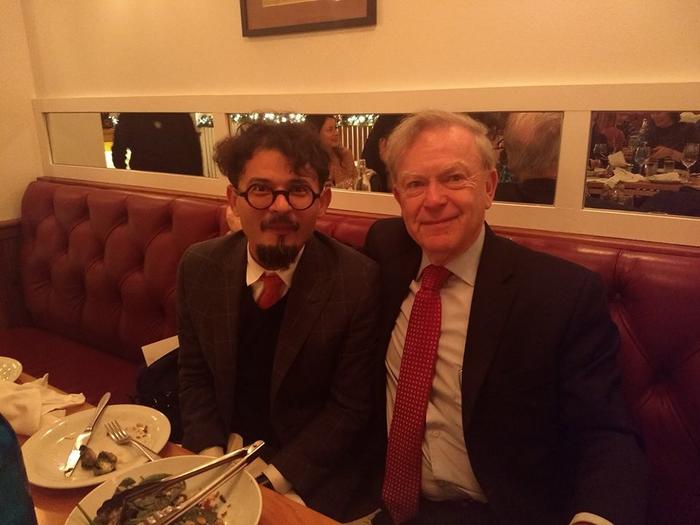 Conference conveners Prof. Eduardo Jorge de Oliveira, Universität Zürich(left)  
and Prof. David Kenneth Jackson, Yale University (right) share a meal after  
the full day event. Photo: Adam Joseph Shellhorse
Haroldo de Campos was a founder and leader of the Concrete Poetry movement in São Paulo (from 1952), a visiting professor at Yale (1978), incessant traveler and promoter of contemporary poetry and translation, for which he invented the term "Transcreation." Many of his essays are translated in the volume NOVAS (Northwestern UP, 2007). His literary archive at the Casa das Rosas in São Paulo is a point of international research, based on his contact with major theorists and intellectuals around the world. Campos received the Octavio Paz prize, the Roger Caillois prize, and an honorary doctorate from University of Montreal.
The first part of the event, the Jornada Haroldo de Campos, took place on October 30-31, 2019 in Zürich. The December 2019 event at Yale –"Poetry, Criticism, Translation" –featured scholars from the United States, Switzerland, Germany, Canada, France, Poland, and Austria. Panelists addressed issues including international translation networks and literary circulation, sound and translation, and poetics. Scholars ranged from tenured professors to graduate students, and all were thrilled for the chance to gather for vibrant dialogue. The Yale conference was a chance for prolonged and intimate scholarly exchange. In addition to the full dayof panels and talks, the event included a special exhibition of books and collection materials related to Haroldo de Campos at the Beinecke Rare Book & Manuscript Library.
Professors David Jackson and Eduardo Jorge de Oliveira felt that the events in Zurich and at Yale were a great success, not only in celebrating the life and work of Haroldo de Campos, but in stimulating connections between the two universities and among international scholars, including the younger generation, represented by graduate students and post-doctoral fellows who presented at the conference. They both looked forward to working together for a 2029 event to celebrate Haroldo de Campos centennial!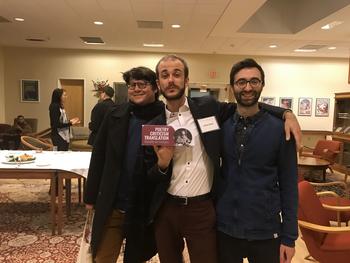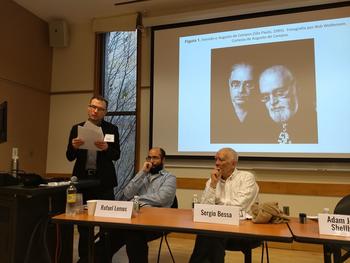 Left: Prof. Adam Joseph Shellhouse presents his work. Right: Conference participants 
celebrating a successful event. Photos: Adam Joseph Shellhorse & Alison Kibbe.
This conference was made possible with the support of the Edward J. and Dorothy Clarke Kempf Memorial Fund, the Council on Latin American & Iberian Studies at the MacMillanCenter at Yale, the Yale Department of Spanish & Portuguese, the Yale Department ofComparative Literature, and the Yale Translation Initiative at the MacMillan Center at Yale.This conference is convened by Kenneth David Jackson, Yale University and Eduardo Jorgede Oliveira, Universität Zürich.
Thank you to Adam Joseph Shellhorse, Associate Professor of Latin American Studies, Portuguese, and Brazilian Studies at Temple University, for sharing photographs from the event.
Written by Alison Kibbe, PhD Student in American Studies and African American Studies.
Program
BOOK EXHIBIT, Beinecke Library, Friday, December 13, 1:30-2:30
FIRST SESSION, Luce Hall 203,
International Contacts, Friday, December 13, 3:00 – 6:30 p.m.
Welcome, Kenneth David Jackson, Craig Osterbrock, moderator
Patrícia Lino (UCLA), Augusto de Campos and Transformed Criticism, Or the Plexigramatic Reading
Stefan Lessmann (Yale University), High fidelity: The sound of translation in the correspondence between Haroldo and Ernst Jandl
Gustavo Reis da Silva Louro (Yale University), Haroldo de Campos and the trans-epochal concrete 
INTERMISSION 4:30-5:00
Nathaniel Wolfson (UC Berkeley), Debates on Meaning: Haroldo de Campos and Max Bense
Rafael Lemos, (Yale University), Haroldo de Campos: verbivocovisual updates
Jasmin Wrobel (FU, Berlin), 'Circuladô de fulô': On Literary Circulation, World-Literary Cartographies and Poetic Mappings in the Work of Haroldo de Campos
SECOND SESSION, Luce Hall 203
Translating Haroldo de Campos, Saturday, December 14, 9:00-11:30 a.m., Gustavo Reis Louro, moderator
Odile Cisneros (University of Alberta), Translating Galáxias: A Journey to the Origin of the Word
Inês Oseki-Dépré (Université Aix, Marseille), A translation into four hands, a Creative Laboratory                                                                                                                                               
Melanie Strasser (Universität Wein), Cannibal translation: Haroldo de Campos' anthropophagic poetics of translation  
Giacomo Berchi (Yale University), 'L'amorfo-nero / caos delle acque': Finismundo and the Poetics of Shipwreck, with a Few Notes on Transcreating Haroldo de Campos' Poem from Portuguese into Italian
Gabriel Borowski (Jagiellonian University), Misuses, overuses, and abuses of cannibalism in Translation Studies
THIRD SESSION, Luce Hall 203
Saturday, December 14, 1:00–2:30 p.m., Rafael Lemos, moderator
Poetics
Sérgio Bessa (Bronx Museum), Samba Lesson: The Articulation of Modernity in Haroldo de Campos' Finismundo"
Adam Joseph Shellhorse (Temple University), Epiphany and Antiepiphany in Haroldo de Campos 
Craig Osterbrock (Yale University), Baroque Beginnings: The Early Poetry of Haroldo de Campos
INTERMISSION 2:30-3:00 p.m.
FOURTH SESSION, Luce Hall 203
Meanings and Relations, Saturday, December 14, 3:00-5:00 p.m. Stefan Lessman, moderator
Marjorie Perloff (Stanford University), 'A Question of Relations:' Haroldo's Reconfiguration of the Poundian Ideogram
Craig Dworkin (University of Utah), The Impossible
Eduardo Jorge de Oliveira, (Universität Zürich), Parallel Chants: Haroldo de Campos and the Art of Parody
Kenneth David Jackson (Yale University), Haroldo de Campos, choreographer of words
Participants
Marjorie Perloff
Inês Oseki-Dépré
Eduardo Jorge de Oliveira
Jasmin Wrobel
Gabriel Borowski
Melanie Strasser
Odile Cisneros
Sergio Bessa
Adam Joseph Shellhorse
Craig Dworkin
Patrícia Lino
Nathaniel Wolfson
Giacomo Berchi
Stefan Lessman
Gustavo Reis da Silva Louro
Rafael Lemos
Craig Osterbrock
Kenneth David Jackson