Professor Erika Helgen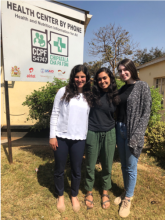 Erika Helgen is Associate Professor of Latin American and Latinx Christianity at the Yale Divinity School. Professor Helgen is also a graduate of Yale's PhD program in Latin American History, where she worked closely with Professors Stuart Schwartz and Gilbert Joseph.
Published in 2020 by Yale University Press, Religious Conflict in Brazil: Protestants, Catholics, and the Rise of Religious Pluralism in the Early Twentieth Century is Helgen's first book and draws significantly on the research she undertook as a graduate student at Yale Univeristy for her dissertation, which was funded by a Fullbright Fellowship and received the Arthur and Mary Wright Yale Dissertation Prize.
Religious Conflict in Brazil is a timely contribution to our understanding of religious pluralism and conflict in contemporary Latin America. Helgen investigates Protestant and Catholic relations in the Brazilian Northeast at a moment when Brazil transformed from a Catholic monarchy to a secular republic. In republican Brazil's 1891 Constitution, the Catholic Church lost its status as the official state religion. Helgen notes that the "transition from a hegemonically Catholic society to a religiously pluralistic society" provided one of "the greatest shocks to the Latin American religious system in its five-hundred plus year history" and led to the "subsequent reconfiguration of the relationship between faith, culture, and Latin American identity."
The disentailment of the Catholic Church from political power incited a new kind of Catholic political activism that gained ground during the presidency and dictatorship of Getúlio Dornelles Vargas from 1930-1945 and 1951-1954. Long considered a stronghold of Catholicism, the Northeast became the center of a nationalist Catholic movement which sought to counter the growth of Protestant sects. Through an analysis of the violence and conflicts organized by Catholic bishops, priests, and intellectuals against Protestants, Helgen shows how religious conflicts expressed conflicting visions of Brazilian identity and visions for its future.
Helgen's two new research projects build on and extend our knowledge of religious governance and conflict in contemporary Brazil. "One looks at the relationship between religion, migration, and the environment in both the Northeast and the Amazon, and the other examines how local ecclesial innovations in Brazil and other Latin American countries impacted global movements for Catholic reform."
At a time when Protestant sects, particularly the Pentecostal Church, are being accused of persecuting violence against African-originated religions, Helgen's research on anti-Protestant persecution by Catholics in the early twentieth century provides numerous lessons. "Nationalist and/or populist governments and leaders can certainly be an obstacle to religious tolerance – these governments oftentimes promote a particular concept of national unity that has religious underpinnings, thereby identifying religious minorities or religious groups not supportive of the government as "enemies" that are inherently threatening that unity." Helgen is aware of how victims of violence can also turn into perpetrators. For her, "promoting and protecting religious pluralism is a process that never ends."